Carpentry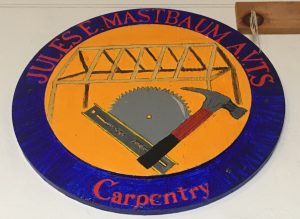 Love to build? Do you want to work with your hands to create things? 
Construction is consistently one of the top-paying fields for graduates of study – bachelor's or associate's level degrees. It's an exciting, creative and dynamic arena in which problems are solved, old things are fixed, and new things are created. It's simply one of the most practical and creative choices you can make.
Carpentry prepares students to apply technical knowledge and skills to lay out, fabricate, erect, install, and repair structures and fixtures using hand and power tools.
The carpentry program teaches students how to build structures from the ground up. Students get hands-on instruction in the art, math, and technical aspects of building. Students start with blueprints, moving on to building foundations and frameworks, then repairing.
Students in the carpentry program also gain business skills, such as materials, estimates, and blueprints and finish techniques. After graduation, students have a solid foundation of carpentry basics and the valuable hands-on experience that is unique for people starting out in the industry.
Certifications:
OSHA 10 (Construction), National Center for Construction Education & Research (NCCER)
Career Opportunities:
with 4-year college degrees or higher
Civil Engineer
Construction Engineer
LEED Construction
Commissioner
with 2-year college degrees
Architectural Drafter
Building Inspector
Construction Estimator
Construction Manager
with certifications
Interior/Exterior Finishing
General Contractor
Plumbing Assistant
Painter
Property Manager
Instructor: Mr. Mr. Richard Constance