Graphic Design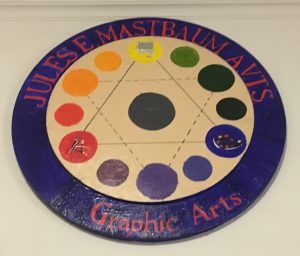 Future graphic designers know how to make visual messages pop, convey meaning without text, and make text more descriptive with visuals.
The Graphic Design program teaches the fundamentals of design along with the technical programs that are most relevant in this popular industry.
Course coverage includes visual design concepts, color theory, drawing, typography, print production, advertising, corporate design, publications design, packaging design, website design and photography.
The program begins with design fundamentals. From there, the future graphic designer learns specialized software and the principles, materials, and skills to bring a design project to a logical solution of visual communication.
This program focuses on developing the creativity and software skills necessary to be competitive in the field of Graphic Design, and students leave with a portfolio of work upon graduation. Using state-of-the-art digital technology, students participate in activities like the State Computer Fair and other competitions that give students the opportunity to apply these principles to a variety of design challenges.
Certifications:
Adobe Certified Associate (Photoshop and/or InDesign and/or Illustrator)
Events: 
State Computer Fair
World Aids Day Poster Contest
Philadelphia Auto Show Poster Contest
Career Opportunities:
with 4-year college degrees or higher
Art Director
Editor
Production Manager
Marketing/Sales Manager
with 2-year college degrees
Advertising Representatives
Desktop Publication
Illustrator
Production Artist
Instructor: Mr. Adam Blyweiss