Welding Technology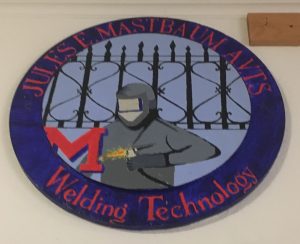 We teach students how to join metal and how to join the welding world. 
The Welding Technology program prepares students to apply technical knowledge and skills in gas, arc,
shielded, and non-shielded metal arc, brazing, flame-cutting, and plasma welding. Hand, semi-automatic, and automatic welding processes are also included in the instruction.
Students first learn the science, then the safety, then the practice of welding. Students in Welding Technology learn all about the high-temperature metal-joining techniques of the trade, then combine the technical knowledge with the skills taught by industry professionals. Safety, testing materials, different welding processes and reading blueprints are part of the instruction, but much of the learning is in the doing. Understanding the different types of welding, and the processes that accompany the welding process go a long way out of high school into the industry. Our students graduate with a deep knowledge of the welding industry.
Instruction covers the welding standards established by the American Welding Society, American Society of Mechanical Engineers and American Bureau of Ships. The specific welding students learn are Shield Metal Arc Welding (SMAW), Gas Metal Arc Welding (GMAW), Gas Tungsten Arc Welding (GTAW), and Flux Core Arc Welding (FCAW.) Students also learn Oxy-Acetylene Welding (OAW), Cutting (OFC-A), and Plasma Arc Cutting (PAC).
Certifications:
OSHA 10 (Construction), National Center for Construction Education & Research (NCCER), American Welding Society (AWS) – Levels I or II
Career Opportunities:
with 4-year college degrees or higher
Civil Engineer
Construction Engineer
LEED Construction Commissioner
with 2-year college degrees
Architectural Drafter
Building Inspector
Construction Estimator
Construction Manager
with certifications
Interior/Exterior Finishing
General Contractor
Plumbing Assistant
Painter
Property Manager
Instructor: Mr. James Blocker